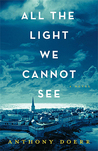 All the Light We Cannot See by Anthony Doerr
My rating: 4 of 5 stars
This is a great fiction book on WWII. It describes a boy, Werner, growing up in Germany and a French girl, Marie-Laure, who is blind. The book leads to the point in time in which they meet. The boy struggles with the systems put into play that mean he has very little or no control over his own life. His convictions against the Nazi system. One boy could not stop the machine of power in his country nor did he want to. It would have meant his life and nothing would change. He does begin to realize his power to save one. A blind French girl, who is hiding the Sea of Flames. Their connection occurs with by radio wave.
The author, Anthony Doerr does an incredible job describing the internal struggles Germans had within themselves as the Fuhrer system took hold. The pain the Germans faced during and after the war. German women raped by Russians. He does not sugar coat reality. Nor does he shy away from the struggle that people on both sides faced wrestling their conscious and risking their life.
I gave this book a four was because it was not a book I personally found relaxing or pleasurable to read. If I were still teaching High school History, I would add it to the curriculum, because it is realistic and it tells sides not often heard in our US classes. I also decided on a four star because I felt that there were several scenes that I felt were irrelevant to the story, causing it to drag.
//rcm-na.amazon-adsystem.com/e/cm?o=1&p=48&l=ur1&category=kindle&banner=07KRT7PR16ABHRX50FG2&f=ifr&linkID=766dcd7c2a25a34096206e9e5b4d76f3&t=writejourn-20&tracking_id=writejourn-20